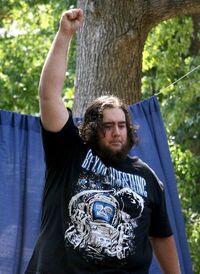 Patrick Wade Wilson (often shortened to PWW) is a New Jersey backyard wrestler from the Elite Wrestling Association. Debuting in 2008 under the EWA banner, PWW has wrestled for numerous other promotions including the Iconic Wrestling Circuit, BXW, RAGE Wrestling, Jersey Shore Wrestling, TWC and LWF. He is a former GBYWN United States Champion, GBYWN Northeast Tag Team Champion and EWA Hardcore Champion.
Patrick Wade Wilson debuted in 2009 for the first season of the Elite Wrestling Association as a part-time wrestler. PWW soon became the lackey of TJ BLade before being betrayed by his boss which resulted in a feud that put PWW on top. In 2010, PWW joined Rad Hazard in hosting Backyard Wrestling Weekly for 26 episodes before the two had a falling out, resulting in a "year in the making" match that saw PWW defeat Rad for the GBYWN United States Championship.
With EWA on hiatus in the summer of 2011, PWW and Daniel Divine, teamed up as "The Stepdads" to win the GBYWN Northeast Tag Team Championship from Mike Williams at a Jersey Shore Wrestling event, ultimately losing the titles at EWA Elite 2011 in a tag team turmoil gauntlet to "The Titan Towers" of "Benjamin Rite Backe" and "Andrew Wright".
In 2012, PWW defeated Mike Williams yet again, this time in singles competition to become the EWA Hardcore Champion, a title he held yet again until EWA Elite 2012, losing the title in an open invitational to Dusty Dallas.
Championships
Edit
GBYWN United States Championship (1 time)
GBYWN Northeast Tag Team Championship (1 time - Daniel Divine)
EWA Hardcore Championship (1 time)
Ad blocker interference detected!
Wikia is a free-to-use site that makes money from advertising. We have a modified experience for viewers using ad blockers

Wikia is not accessible if you've made further modifications. Remove the custom ad blocker rule(s) and the page will load as expected.